Media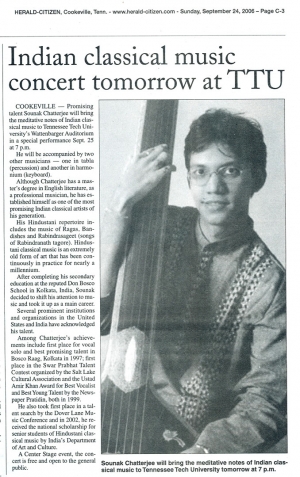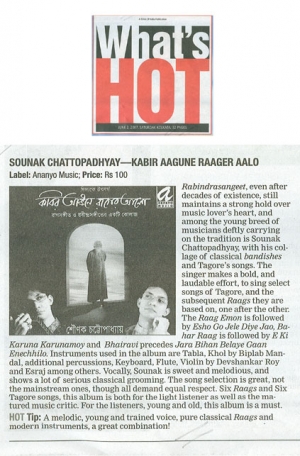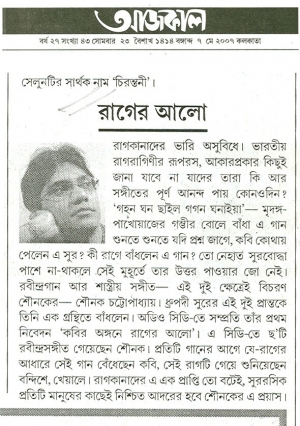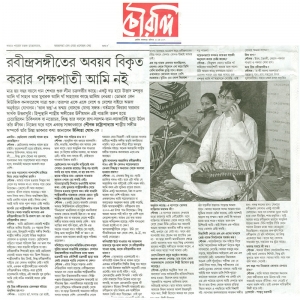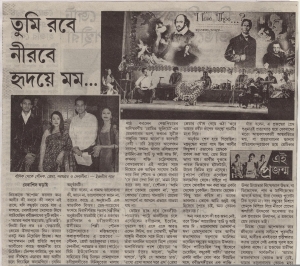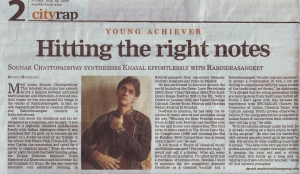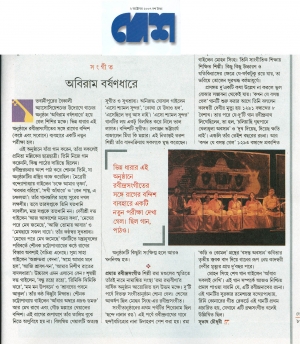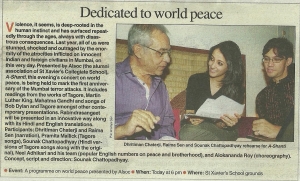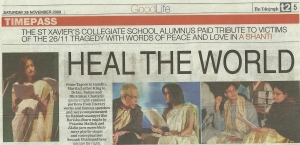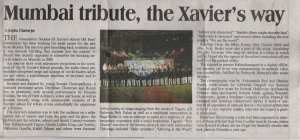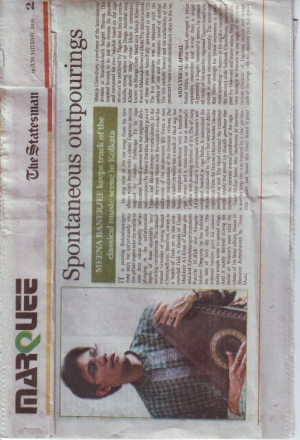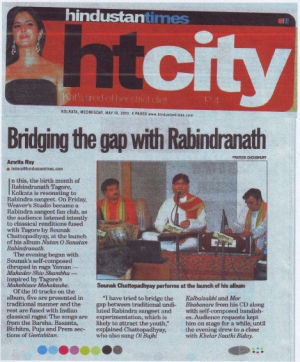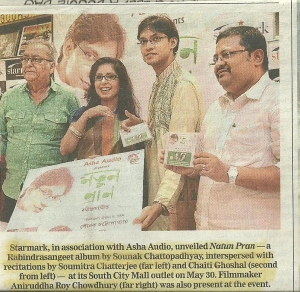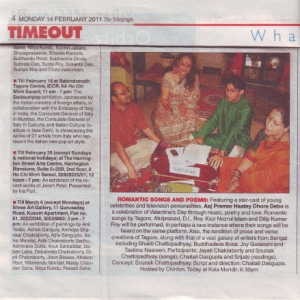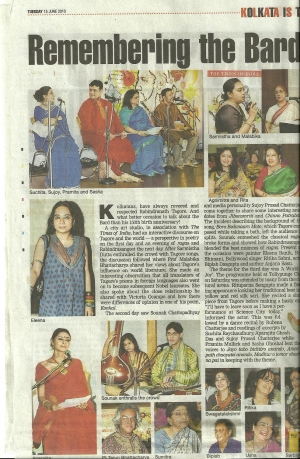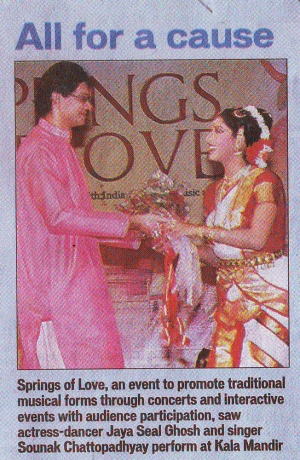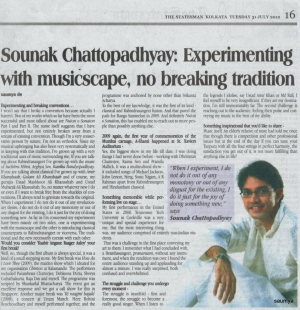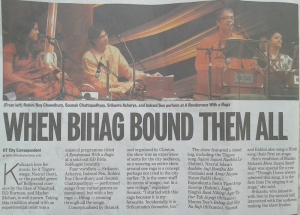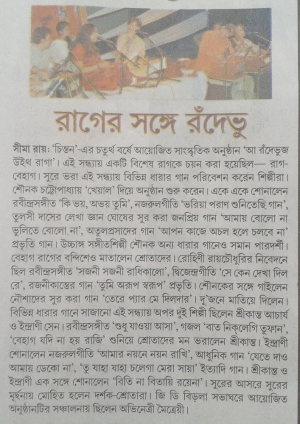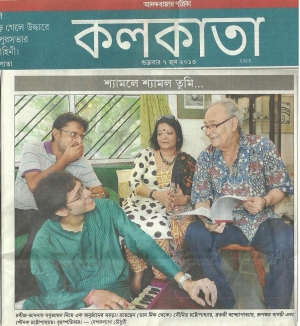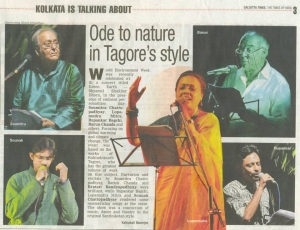 The PTI, on Green Earth - "Shyamol Sukher Dhora"
"In a never-before multimedia fusion of music, dance, drama, with references to the Bard's vision of afforestation, legendary actors, elocutionists, and singers have joined hands to spread the Save Earth campaign.

Such a project on Tagorean songs, plays and poems in such a 3-D medley having a typical flavor of Santiniketan, the red earthed Khowai land, skirted by trees had never been seen. "We presented an assortment of Rabindranath Tagore's best works on nature, while retaining the contemporary feel," young vocalist Sounak Chattopadhyay, who had conceptualized the whole idea and assembled the enviable ensemble cast of thespian Soumitra Chattopadhya, veteran actor Barun Chanda, elocutionist Bratati Bandyopadhyay, besides Lopamudra and new age Bengali singer Rupankar Bagchi, said. "

The PTI, on Green Earth - "Shyamol Sukher Dhora"
The Times of India - On Nuton Sonaton
"…This is no contemporary experiment in jazzing up Tagore. Classics such as Ei udashi haowa, Nil anjana ghana and Mone ki dwidha are present with their pristine exuberance… Sounak takes the exercise to dizzy heights when he renders the spring song, Aji dakhino duar khola, the way Tagore had conceived it, in Raga Bahar…and then juxtaposes his own composition based on the same chalan.
The Statesman - On Nuton O Sonaton
"It is pouring Rabindrasangeet these days; but unfortunately very few gifted singers take the trouble to train their voices properly before plunging in the unfathomable depths of these apparently 'easy' sounding compositions. The classical-trained virtuosity of young Sounak Chattopadhyay, therefore, comes as a breath of fresh air in this overcrowded field."
Desh Patrika
"…The evening started with a Khayal recital in Raga Shuddha Kalyan by Sounak. This young artist possesses a tuneful and mellifluous voice…. series of slow and mid tempo sargams and taans were most competently executed towards the end of the Vilambit khayal (slow movements). In the drut (fast tempo), portion he presented short and brisk sargams and fast aakar taans with perfection…"
The Telegraph
…"The singer's diction is clear — the songs chosen are full of phonetically difficult word-compounds such as marma-majhare and karuna-arun. The careful pause before taba,so as not to separate the word from its companion,sakarun,though it comes only in the next line, reveals a close reading of Aji kon dhan hotey…"
Desh Patrika
"… Sounak Chattopadhyay presented short Khayal bandishes in Ragas Megh and Gaud Malhar. His renditions amply bear nuances of his taalim (training). The vilambit Khayal particularly was extremely well sung…."
Hindustan Times
"… Baaje Korun Surey performed by vocalist Sounak Chattopadhyay was brilliant…"
The Times of India
"…among the young breed of musicians deftly carrying on the tradition is Sounak Chattopadhyay, with his collage of classical bandishes and Tagore's songs. The song selection is great, not the mainstream ones, though all demand equal respect… this album is both for the light listener as well as the matured music critic."
Sur Sangbad : News bulletin from Surdhwani (UK).
"It was a UK debut for Sounak Chatterjee of Kolkata and what a debut it was! It was a performance worthy of a singer twice his age. We are proud to have him for his first concert outside India. Sounak performed the evening melody Raga "Yaman". His rendition of the 'Raga' was of the highest order, expressive, penetrating and active in intonation and dazzling in rhythm. The concluding item of the evening was a short composition on the Raga 'Basant' (spring melody). The whole piece was even more marvellously crafted, aesthetically realised and gracefully formal."
Anandabazar Patrika
"Sounak started with Raga Multani. This difficult Raga was treated with dexterity and Sounak sang the Vilambit and Drut khayals keeping the intrinsic mood of the Raga intact. The swar-uchchar was accurate and the note combinations of the taan-sargams were exceptional."
Jansatta
"Mashkoor Ali Khansahab's renowned disciple Sounak Chatterjee presented the Raga in the ideal style of the Kiarana gayaki and the tans and sargams were crystal clear."
The Telegraph
"A singing sensation with a voice that has wooed a thousand ears"